Looking for a cheap, good pair of headphones? Disappointed by the usually bad selection of headphones you can get for less than $20? Look no further, because the perfect headphones are the ones you'd least expect.
Sennheiser is known for making great headphones, so why should price change your mind about buying great headphones? I was searching around and found these. While they are expensive directly from Sennheiser, you can get them for a lot cheaper off of Amazon. I read some of the reviews and thought that this would be great. So I bought them and waited for them to come.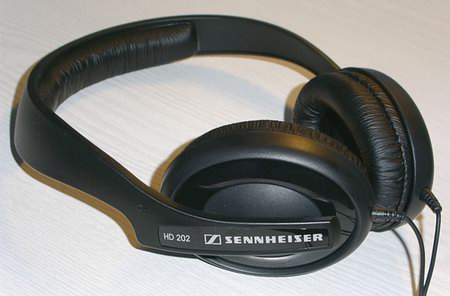 When they came, I immediately put them in to my iPod and put on some music. I was amazed at the sound quality! While they aren't advertised as "noise-cancelling" or "around-ear", they certainly do both. I was just listening in awe at how awesome my rock collection sounded. The only things that disappointed me were the lack of a decent amount of bass, which can be adjusted in your player's EQ, and the extremely long cable. The latter was my fault, I guess for not looking at the specs, but oh well. It's only 3 feet or so.
What also disappointed me was the weird way the actual speakers were attached to the part that goes around your head. They are kinda stuck in there, but come out somewhat easily. It's really easy to put them back into place, though. The design isn't great either, but you can't be too upset with it.
All-in-all I think these deserve a very honourable mention and you should definitely try these out if you're looking for a nice set of headphones.